Originally posted March 2013; updated December 2013 (added San Felipe, Zambales)
Aside from just swimming and getting a good tan, the beach is great for all sorts of water sports, including surfing. If you want to learn how to ride the waves, here are eight surf spots around the Philippines that I've personally been to.
1) Baler, Aurora
Thanks to JourneyingJames "Camp, Surf, Bike & Trek" tour, I finally got to visit Baler, one of the more popular surfing spots in the Philippines. This quaint coastal town in the province of Aurora is bordered by the Pacific Ocean on the East and draws in tourists especially during the ber months.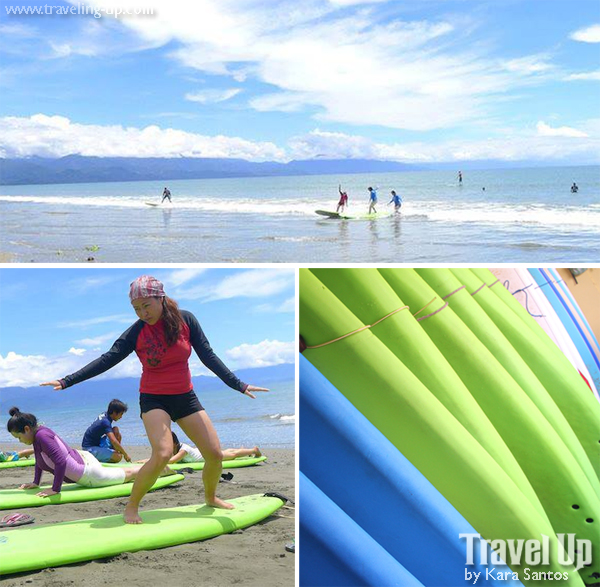 Baler photos by Mitch Quimsiam courtesy of JourneyingJamestours
Sabang Beach in Baler has a long stretch of sandy shoreline and a soft and shallow oceanbed, making it an ideal place for those who want to learn to surf for the first time. If you want bigger waves, locals say you'll need to rent a motorized banca to reach different surfing spots. Other spots like Cemento Reef, Charlie's Point and Lindy's point are not recommended for beginners, though.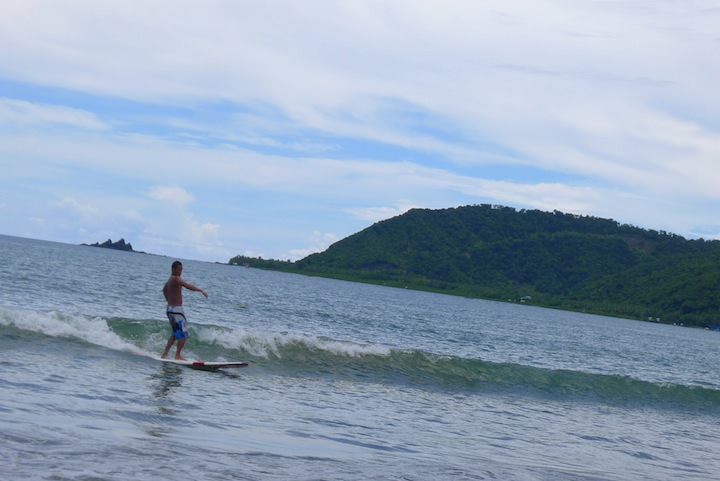 What's great is that the surf shops in Sabang beach are conveniently located right next to the camping grounds in tent city and many beachfront hotels and inns. The sea was pretty flat during our visit, but we were still able to catch some baby waves and everyone in the group was able to successfully ride the waves.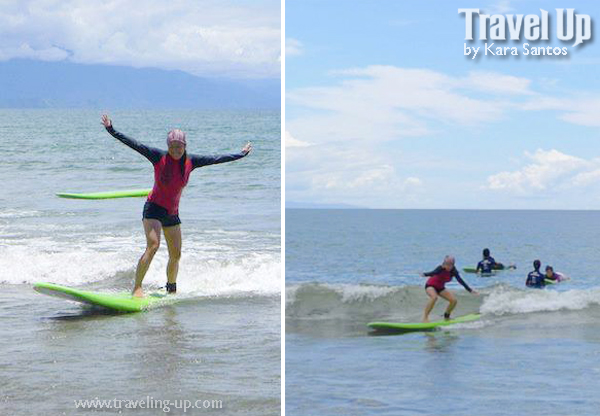 USEFUL INFO:
2) Bagasbas, Camarines Norte
In recent years, Bagasbas Beach in Daet, Camarines Norte has risen in popularity as a surfing and kiteboarding spot. Several summer surfing festivals and clinics have been held here and local surfers recommend Bagasbas beach for beginners who want to learn how to surf.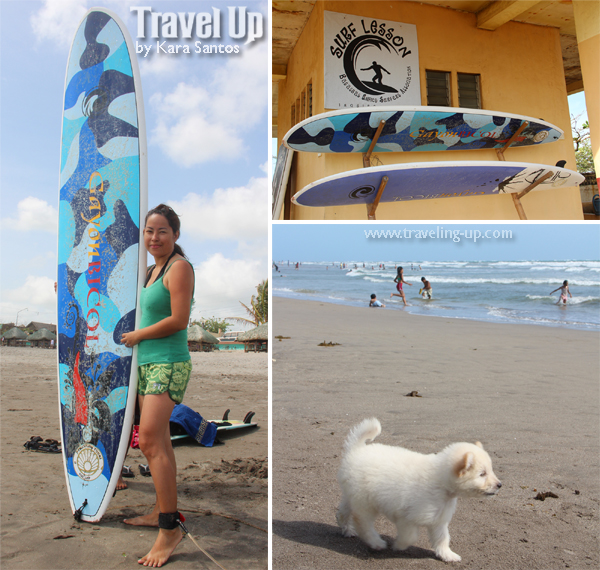 Bagasbas Beach has fine gray sand with a long coastline that stretches over two kilometers, making it a popular hangout for locals during weekends. The waves are consistent near the coast throughout the whole year, and the sea-bed is shallow and sandy so it doesn't hurt when you wipeout, making it ideal for surfing newbies. Intermediate and expert surfers can head a little further away from the shore where the waves pose a bit more of a challenge.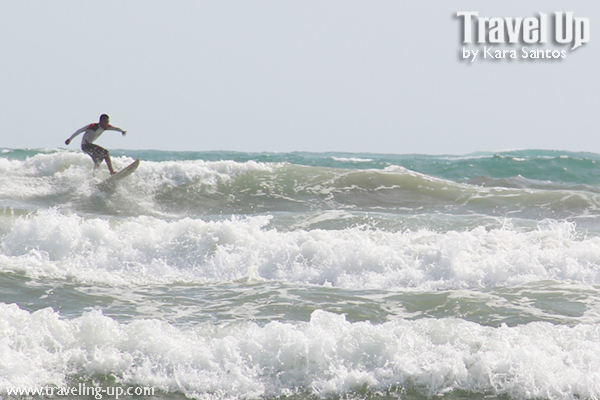 Its accessibility by land travel from Manila makes Bagasbas an affordable option for local tourists who don't want to travel by air or who want to bring their own boards. There are also lots of establishments right in front of the promenade of Bagasbas Beach that offer surfing lessons and surfboards for rent. I had loads of fun surfing on Bagasbas Beach after camping out on Calaguas and Kayak-Surfing in Mercedes during my trip to Camarines Norte last year.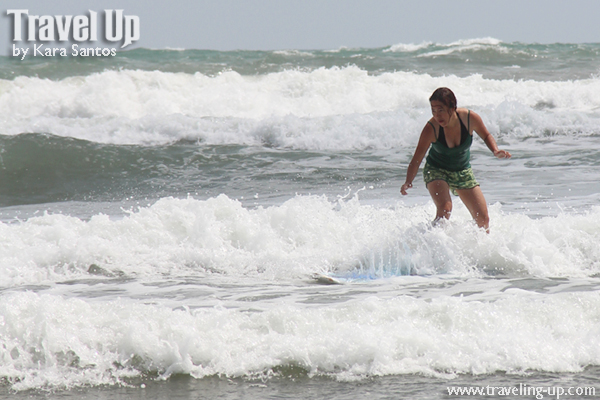 USEFUL INFO:
3) San Juan, La Union
San Juan in La Union is considered the Surfing Capital of the Northern Philippines, and is known for its consistent quality surf. Its beaches have waves suitable for beginners, intermediate and advanced surfers. There are lots of established resorts and restaurants in the area to fit any budget from family-style type establishments ideal for big groups like Sebay Surf Resort to more upscale hotels with their own infinity pool, like Kahuna Beach Resort. A good budget option for surfers is to stay at The Circle Hostel.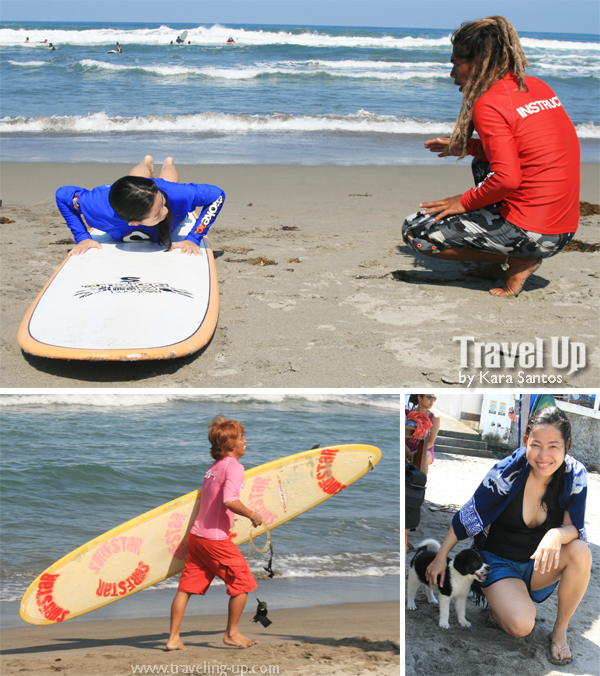 Local and international surfers flock here to enjoy the waves and various surfing tournaments and competitions are held here throughout the year. The La Union Surfing Break launched in 2006 to expose surfing to the general public, is held annually during the semestral break (October), attracting lots of students from Manila, Baguio and other Northern Luzon cities.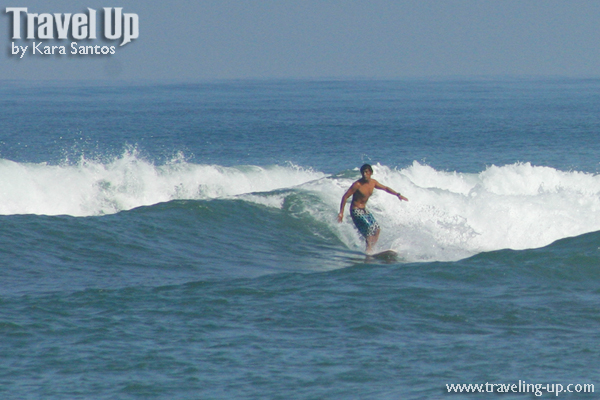 Among the popular surf sites in the Philippines, La Union is the most accessible by land for those coming from Manila. You might want to time your visit during non peak-season to get the most of the surf though. There were lots of visitors during the La Union Surfing Break taking lessons and I almost crashed into other surfers more than once. The accessibility from Manila, party vibe and atmosphere, and number of establishments and restaurants in the area make La Union a good option for families and as a weekend barkada getaway.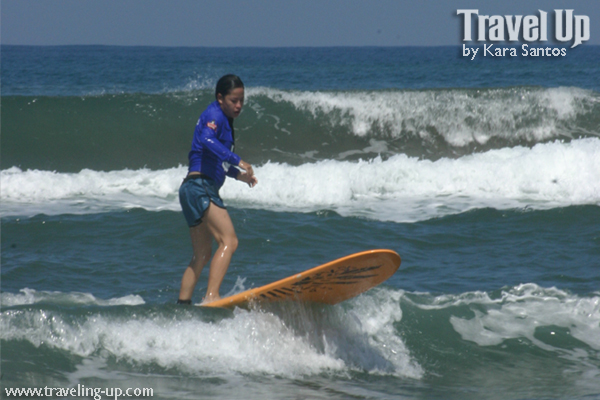 USEFUL INFO:
4) Pagudpud, Ilocos Norte
With its powdery white sand coast, turquoise water and good swells, Blue Lagoon in Pagudpud, Ilocos Norte is easily one of the most picturesque surfing spots I've been to in the Philippines. The raw, rugged beauty of the place and the general lack of people crowding the beach makes this a great surfing destination.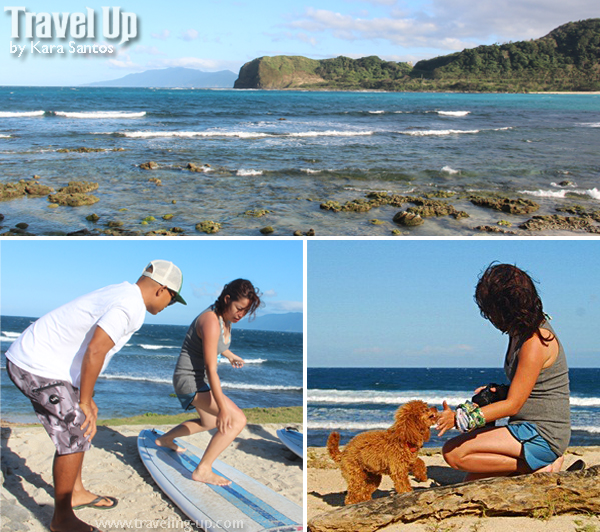 According to local surfers, the swells bring waves almost all-year around in some areas including Blue Lagoon, Maira-ira point and Saud Beach. Pro surfers may want to time their trip during the southeast monsoon from July-September, when the waves are more spectacular.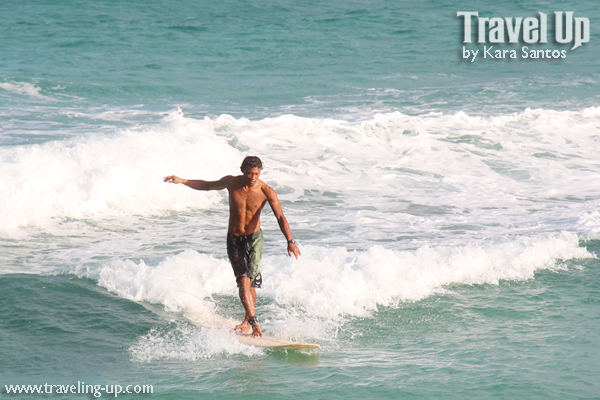 Pagudpud is on the the northernmost tip of Luzon and because of its distance from Manila, it remains practically a virgin surf destination, with just a few beach resorts nearby. I hope it remains that way. My surf session here during our Lakbay Norte 3 tour was mostly marked by multiple wipeouts and muscle cramps from dehydration, but I have it on good authority that surfing here is  one "amazing, exciting, enticing, challenging and awesome" experience.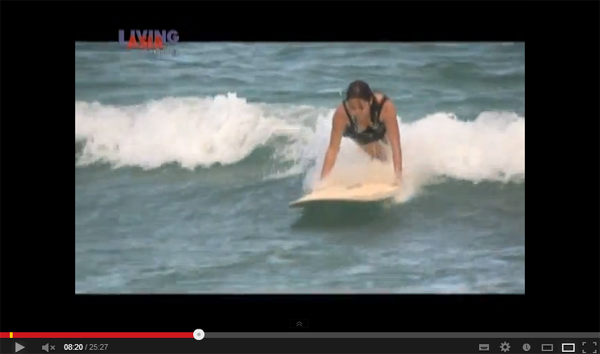 Screenshot from Living Asia Channel's Lakbay Norte 3 episode
USEFUL INFO:
5) Baras, Catanduanes
Known as the home of "Majestic Waves" or simply majestics, idyllic Puraran Beach Resort in Baras, Catanduanes is a surfing spot for those who want to ride the waves in a laid-back setting. The secluded area in Catanduanes facing the Pacific Ocean has creamy golden sand, clear waves, and colorful coral reefs. The long barrel waves in Puraran are said to be comparable in power and quality of those in Hawaii. Therefore, this spot is recommended only for pro-surfers.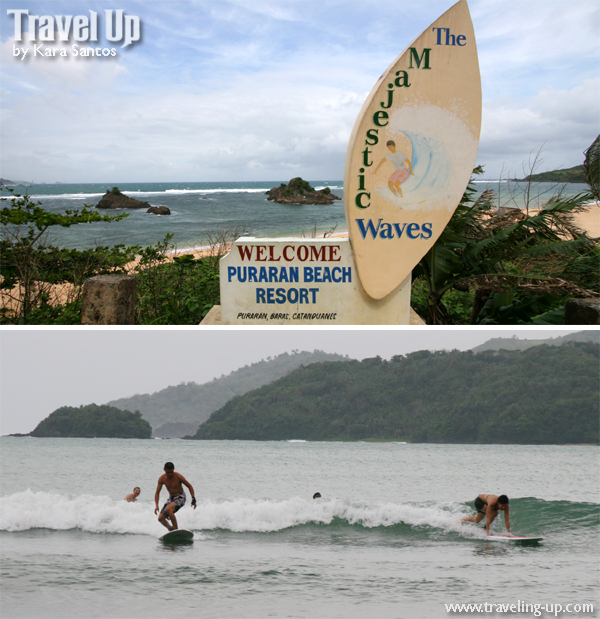 Catanduanes celebrates a provincial festival every October centered on the international and national Governor's Surfing Cup, which attracts surfers around the globe to test their water skills on these powerful waves. First-time surfers can instead head to the tamer Tilod Beach for their initiation to the board sport. It's best to hook up with the local tourism office for your surf lessons here. The seabed here was a bit rocky compared to some of the other surfing spots I've tried though.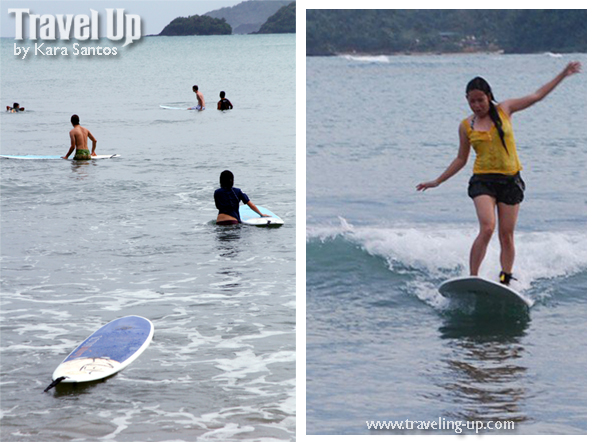 USEFUL INFO:
6) San Antonio, Zambales
According to Surfing in the Philippines, Pundaquit in San Antonio, Zambales has good surf action since it is bordered to the west by the South China Sea and thus receives swells from the west and north quadrants. They add that the coastline offers surfers many possible surfing breaks and is renowned for year-round consistent swell and diversity of breaks. The beach has waves that can cater to all surf abilities, from "first-time surfers to the experienced and hardcore big wave riders."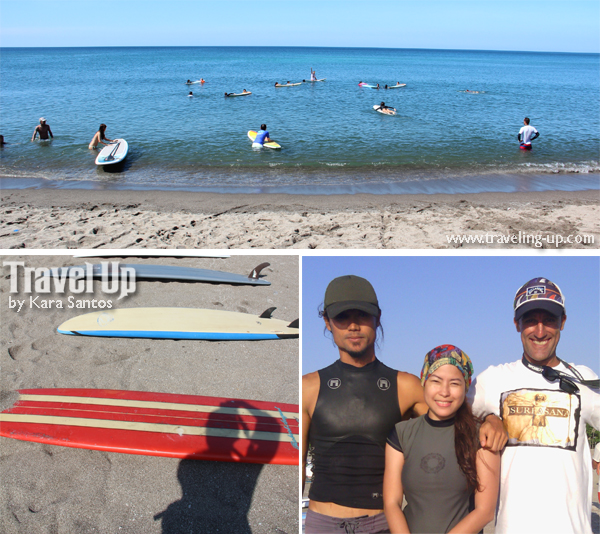 I didn't actually get to try surfing here as the sea was really flat during the FLOW Surf Yoga Samba weekend retreat I covered for TRAVEL Magazine last December. However, I did learn some great basic ground training and surf safety skills from the Surfasana team. In one session, we had to balance on the board in the water, while our companions holding the surfboards tried to topple us off to simulate the waves. We also got to practice our safety skills by "rescuing" drowning teammates with the use of the surfboards.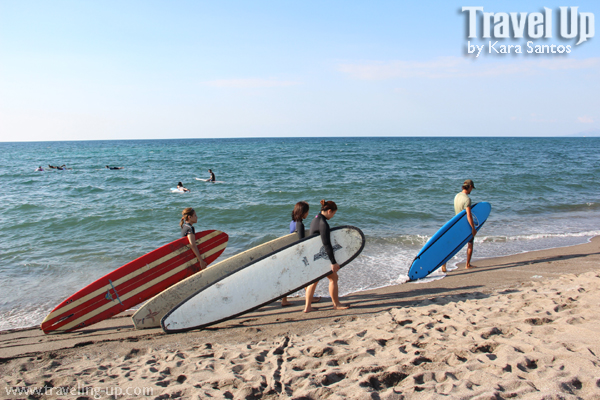 USEFUL INFO:
7) San Felipe, Zambales
Liw-liwa, a sitio in San Felipe, Zambales is another popular surfing destination. Zambales is relatively near Manila, but does not get as crowded as other surf spots, which makes this an ideal place for day or weekend trips if you want to get some quality surfing lessons.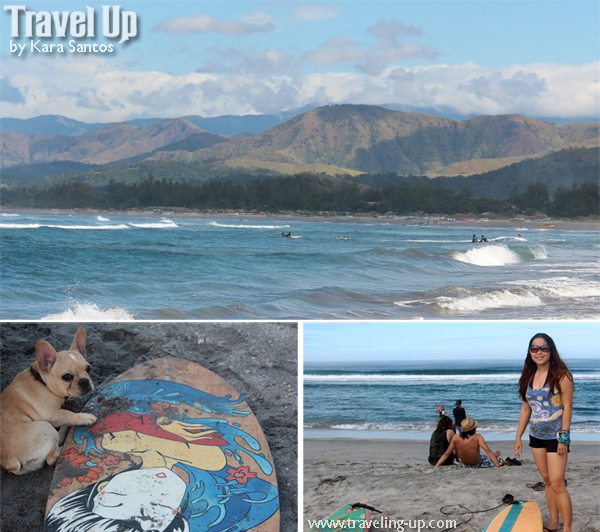 The surf area in Liw-liwa is called "High 5 Lahar" or simply "Lahar" which probably explains why there seems to be a lot of sand mining operations still going on at the shore. The beach itself is not that developed, though there are some small surf resorts & backpacker haunts a short walk away.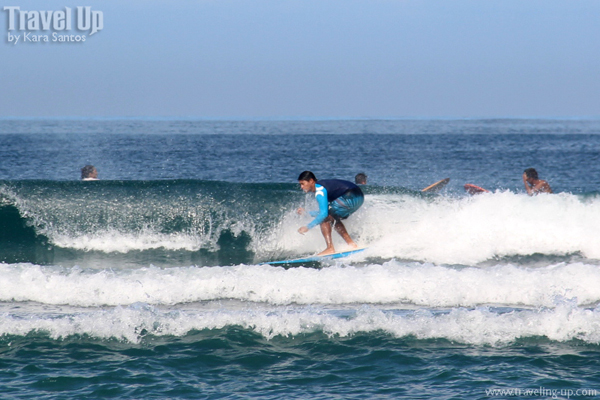 Locals say that the waves in San Felipe are pretty consistent compared to other spots in Zambales (others: Crystal Beach in San Narciso & Magic Left in San Antonio). I got to try surfing here during a weekend at The Circle Hostel Zambales and the waves were stronger than those I've tried in previous spots, but still possible for newbies to learn to surf.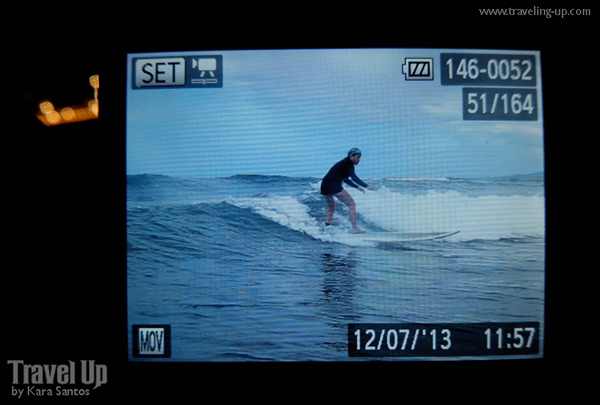 USEFUL INFO:
8) Siargao, Surigao del Norte
No surfing list in the Philippines would be complete without including Siargao in Surigao del Norte. Siargao is synonymous with surfing and is well-known as "The Surfing Capital of the Philippines" drawing attention from local and international surfers. "Cloud 9″, a right-breaking reef wave with a thick, hollow tube is one of the best known surfing waves in the country. This is where domestic and international surfing competitions are held every September by the provincial government of Surigao del Norte.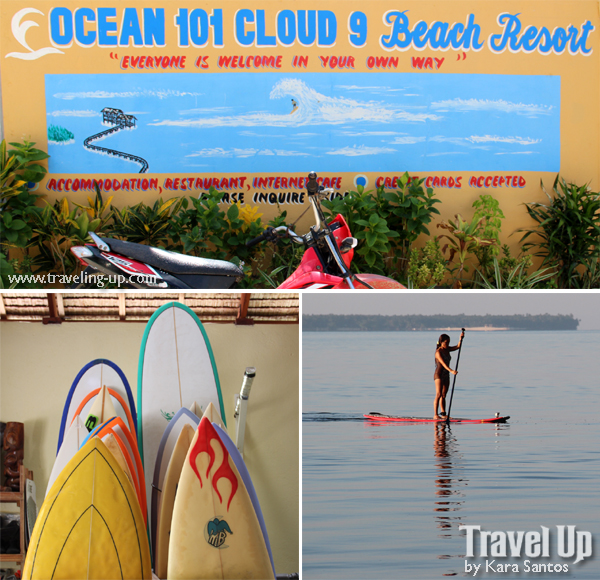 Unfortunately, I wasn't able to try surfing in Siargao during my solo trip there last year as I spent my day motorcycling around the island before heading to Sohoton Cove the next day. I saw a few paddleboarders on General Luna Beach in the morning, but that's it. Siargao definitely warrants another much longer visit.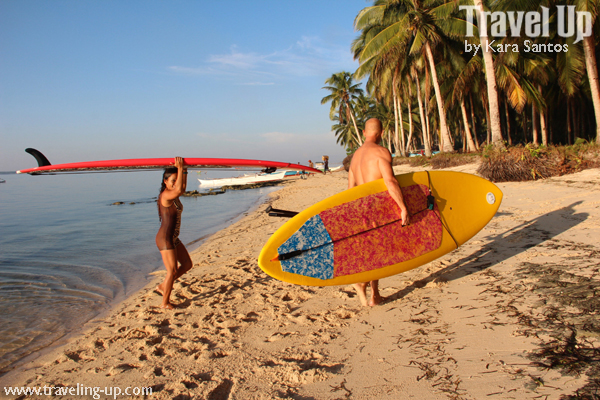 USEFUL INFO:
There are lots of other great surfing destinations that I haven't been to yet including Dahican Beach in Mati City and Calicoan in Eastern Samar. Hopefully, I can visit these places and get stoked there soon. For some great surfing resources, check out Surfing Philippines and My Life on Board.