On the first day of 2014, I took a solo motorcycle ride as a "good luck ride" for the year ahead. I ended up finding a very nice waterfall not that far from the city. This relatively unknown waterfall that's just an hour away from the Quezon City area is a promising weekend destination for motorcyclists and mountain bikers.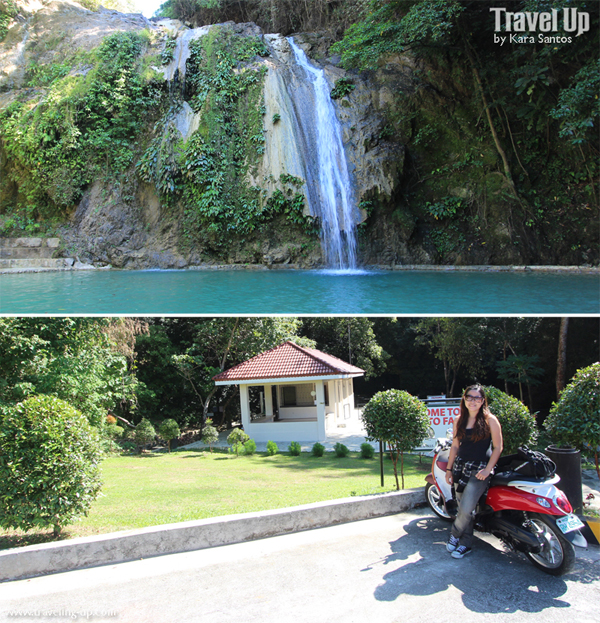 The waterfall can be found within the Palo Alto Leisure and Residential Estates in Brgy. Pinugay, Baras, Rizal. This 200 hectare prime residential and commercial estate is being developed by the Sta. Lucia Land Inc. They're currently selling estate lots here, for those who want to invest in their retirement farms or country estate mansions not that far from the metro. But in the meantime, some of the attractions, including the falls and a clubhouse are open to the public.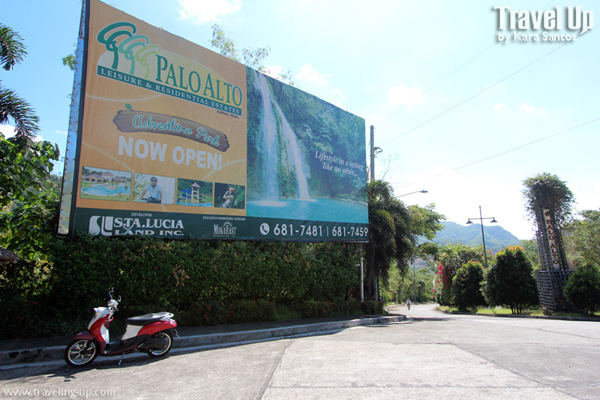 It's hard to miss since there's actually a billboard advertising an adventure park right by the side of the road with a picture of a waterfall on it. I ignored this during previous rides, since I assumed the photo was of Daranak or Batlag Falls–two popular waterfalls in Rizal, which I've previously been to. There are no entrance fees if you just want to inquire or take a look at the facilities. Just leave an ID with the guard at the main gate, and follow the paved road to your preferred destination (falls or clubhouse).
The place is ideal for motorcyclists and road trippers who want to go swimming and have picnics during the weekends. By car or motorcycle, the drive takes about an hour or less from QC without traffic. For mountain bikers, it's more of a challenge, with the uphill ascents, but at least they can relax and cool down after a tiring ride. The whole complex has very good paved roads and secure parking areas for all types of vehicles.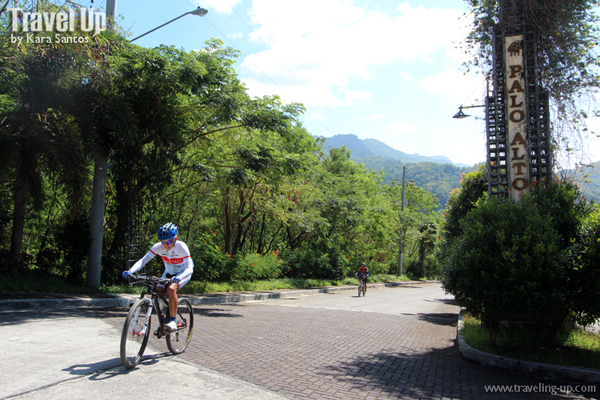 Second visit to Palo Alto: Went back to show the place to Outside Slacker & take better photos with SLR
FALLS
From the parking area, you have to climb up 249 concrete steps to get to the foot of Palo Alto Falls, which is 1000 feet up. It sounds daunting at first, but really, it takes just about 5-8 minutes to get to the foot of the falls. Along the way, you'll pass through thick forests beside a small stream, with water trickling down through the rocks. It's very serene and peaceful, especially if you're the only one there.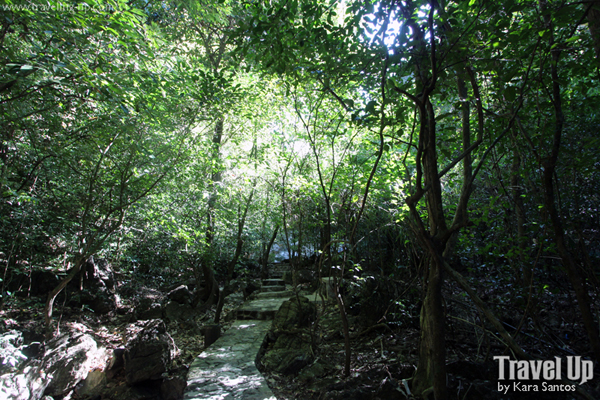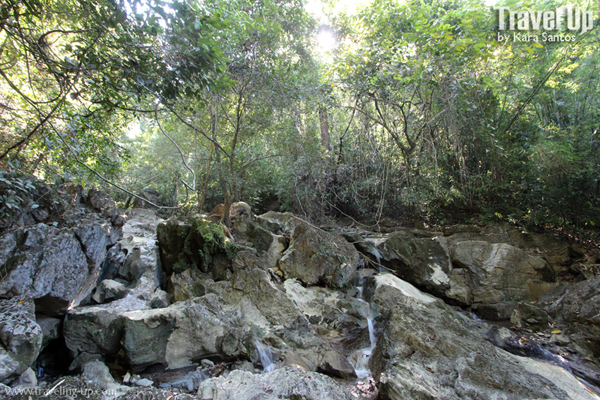 Soon enough, you'll reach a set of native cottages surrounding the foot of the falls. The falls is still surrounded by lush trees and foliage and cascades down from about 60 feet high into a clear pool that has been cemented all around. The water here is very clean and clear, the grounds are well-maintained, and the place is really refreshing. What I like the most is its seclusion, unlike some other more popular waterfalls, which can get quite crowded. During my first visit, I was the only one there, so I had the falls all to myself. During my second visit to take photos, there were a few people swimming, but it didn't feel crowded.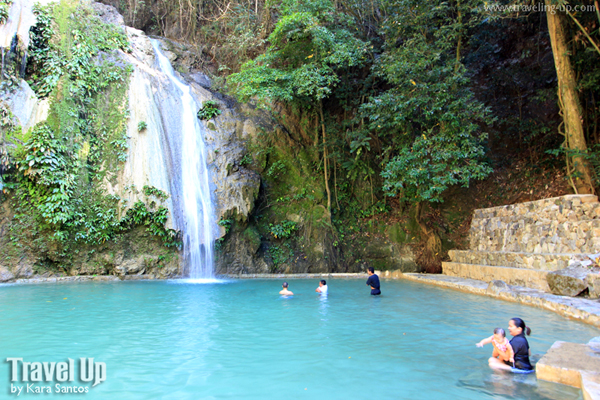 C
LUBHOUSE
The other alternative (especially if you're traveling with kids) is the leisure park's clubhouse, which has a large resort-type swimming pool with winding water slides. The place looks very classy with landscaped gardens, relaxing lounge chairs, and a small bridge over the pool. There's a large shower area with lockers and dressing rooms.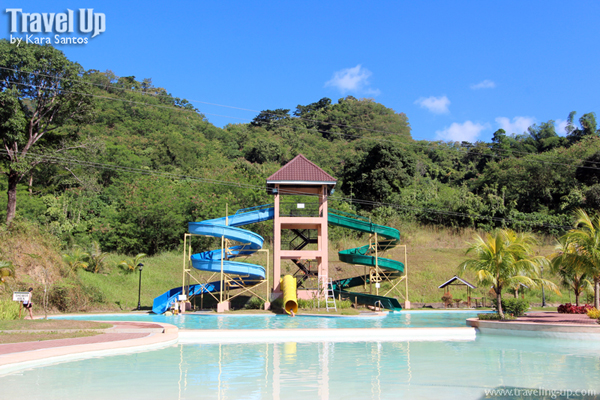 The clubhouse contains a game room where you can play billiards, table tennis, and darts. I spotted a videoke machine on the premises, so that's probably for rent :p The clubhouse also contains a conference/function room for events, a zip line (over the pool), basketball court, and bike lane within the complex. The restaurant, snack bar & coffee shop are still in the works, so anyone who visits should make sure to bring their own food and snacks. Take note that alcoholic drinks are not allowed. There are several picnic huts for rent and grills where you can barbecue your own food by the pool.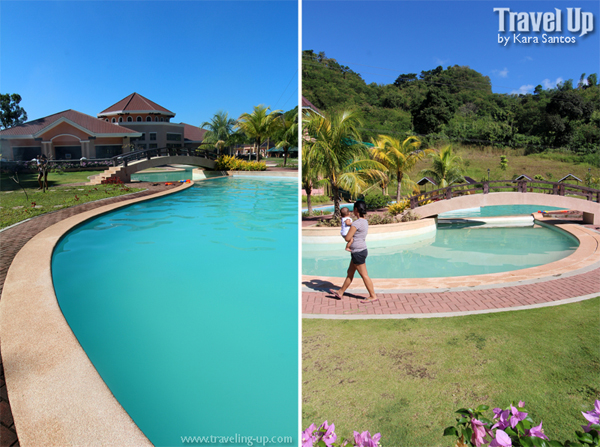 If you didn't bring food and want something to eat, you can visit Park, Rest & Dine, a small and eclectic restaurant, which is a short drive away from Palo Alto. Here's a list of other resorts/restaurants along the route.
THIRD VISIT: Summer 2014
Went back with cousins (by car this time) for a summer picnic outing. The waterfalls was barely a trickle this time.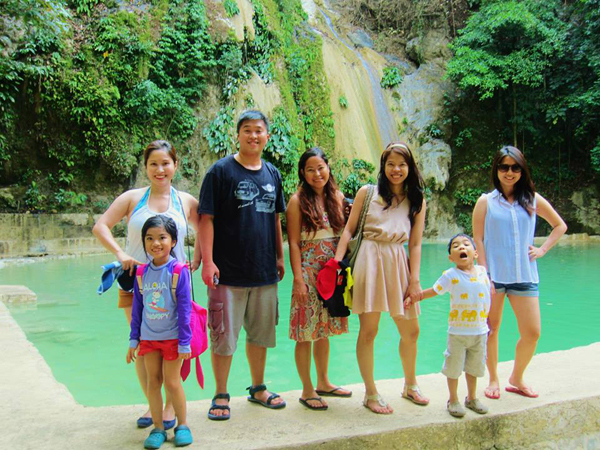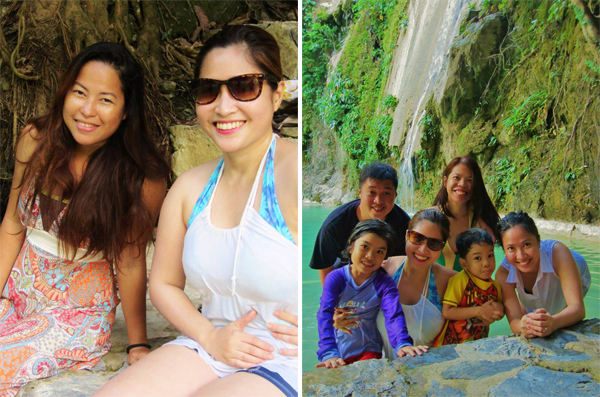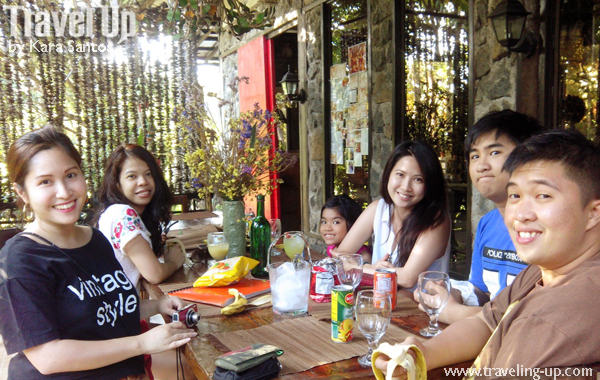 Palo Alto Leisure and Residential Estates / Adventure Park is located in Barangay Pinugay, Baras, Rizal. [MAP]
HOW TO GET TO PALO ALTO:
By private vehicle (car/motorcycle/bicycle):
Coming from Diliman, head to Katipunan, turn left on Aurora Boulevard heading to Marikina.
The highway forks to a bridge heading to Marikina town proper on the left. Stay on the right side of the road heading towards Marcos Highway instead.
Just go straight and follow the route of Marcos Highway.
You will pass through Masinag, Cogeo, Boso-boso Resort and eventually reach Palo Alto. There is a big billboard. You can't miss it.
By commuting: (guide provided by agents of Palo Alto)
From Cubao, ride a jeep or FX going to Cogeo Gate 2 / Padilla.
From Gate 2 (near the market), ride a jeep going to Sampaloc, Tanay.
This is a long and scenic route on a zigzag road. You will pass through Masinag, Cogeo, Boso-boso Resort and eventually reach Palo Alto (it will be on the right side of the road).
Get down at the gate of Palo Alto & walk to Clubhouse or Pool area.
TRAVEL TIPS & USEFUL INFO:
Operating hours are from 8:00 am to 5:00 pm daily.
Proper swimwear is strictly required.
You can bring your own food and drinks except for alcoholic beverages. They have grills/ihawan for cooking food. No smoking and drinking alcohol allowed on the premises.
The restaurant/cafe is not yet complete, but they sell water, softdrinks and snacks in the clubhouse.
Rates for Clubhouse and Falls are separate.
Entrance fees for Palo Alto Falls (if swimming): P100/person (child/adult), Cottage: P700, Chairs & Tables: P300; Free if you're not going to swim (15 mins. only viewing)
Clubhouse rates: P100/P150/person (child/adult), Cottage (good for 8-10 persons): P500, Cottage (good for 12-15): P700, chairs and tables (good for 2-4): P300
Basketball court: P150/hour
Table tennis: P150/hour
Darts – P150/hour
Billiards – P150/hour
Overnight rate: Minimum of 30 persons are allowed but they are required to bring their safety blankets, camping tents, flashlights, etc.
Homeowners are entitled to 50% discount for entrance fees
For exclusive use of clubhouse facilities: P35,000
Facebook page: Palo Alto Leisure & Residential Estates
Contact numbers for inquiries: 0949-8677021 (number given by Sta. Lucia Land Realty when I called the number on the billboard), 0905-5154778 (from their FB page).