Originally posted April 2011, updated July 2014
I feel really fortunate to be living on Maginhawa Street, one of the best go-to places for a food trip around the metro. There's a great range of restaurants and types of cuisine to fit any mood and craving. A lot of the restos in the area also have this laid-back and artsy vibe, which I love.  Since a lot of the Maginhawa establishments have come and gone since I first wrote about this, I decided that it's high time that I updated this post (after my article in Sunday Inquirer Magazine came out.)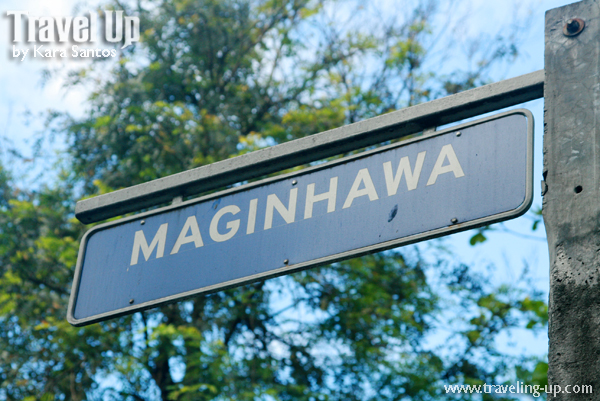 Here is an updated directory of where to to eat along Maginhawa Street, Teachers Village, Diliman, Quezon City. I've also included a few notable restaurants in the Maginhawa orbit/Teacher's Village/Sikatuna area that are not necessarily on Maginhawa street. Check back often because this post gets updated frequently. Lots of new restos have opened up on the street that I'm still planning to try

★ – Places I highly recommend or regularly frequent
THE Z COMPOUND *new*
For the other food stalls that can be found in this complex, check out this post: Z Compound on Malingap Street
★ MESHWE - #33A Malingap Street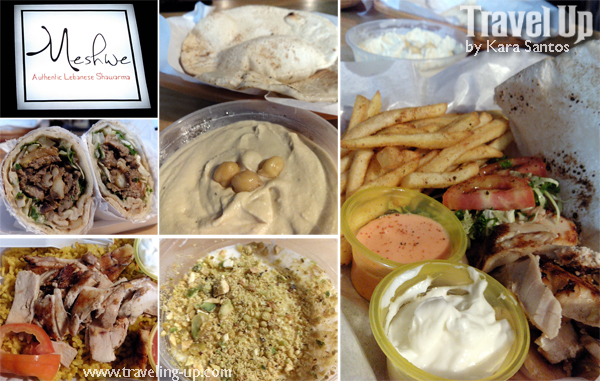 Meshwe specializes in authentic Lebanese Shawarma and Middle Eastern fare. I really love their food and ended up eating here three times during their opening week (they opened November 15). Meshwe is one of the food kiosks currently in the new complex of food stands in 33 Malingap Street and just a few steps down from the Pino group of restaurants. Though each establishment has its own set of tables, there's a common roof deck dining area and you can order food (and beer) from other establishments in the same complex.
Good for: snack, dinner, vegetarian-friendly
Recommendations: Chicken Shawarma Sandwich, Beef Shawarma Sandwich, Shawarma Rice Plates with Bukhari Rice, Hummus, Arabic Fries, Falafel Sandwich (vegetarian) Muhallabia (Creamy rose flavored milk pudding topped with Crushed Pistachios)
Price range: P100+ per dish
Restaurant hours: Tuesday – Saturdays 2pm – 10pm (closed Sundays and Mondays)
Facebook: Meshwe, Tel. no: 0927-6638764
FOOD + BEER
★ TOMATO KICK - #19 Malingap Street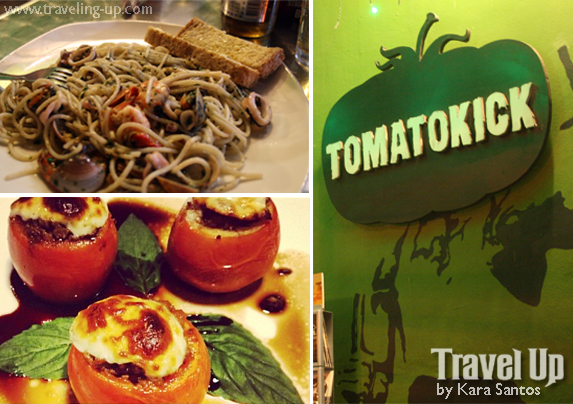 Our favorite watering hole where we eat at least once a week. They serve great appetizers, filling pasta and rice meals and a variety of local beers (San Miguel, Red Horse, Cerveza Negra, Manila Beer). They recently moved from their old location in 55 Maginhawa Street to Malingap Street.
Good for: lunch, snack, dinner, drinks/bar chow (closed on Sundays)
Recommendations: Pesto marinara (seafood pesto pasta), Salsa pork, Beef fajitas, Seafood salpicao, Gising-gising, Cheesy bacon potato wedges, Pita Pizza
Price range: P200-350 per person
Facebook: Tomato Kick, Tel. No: 489.5503
BLACKSOUP CAFE + ARTSPACE - Unit G #154 Maginhawa Street (inner courtyard)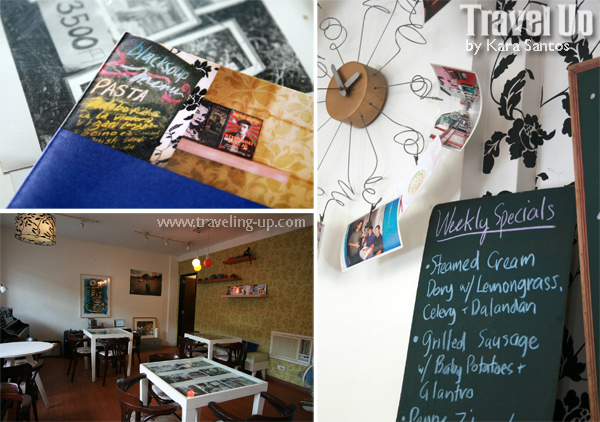 Cozy cafe serving Pinoy cuisine that doubles as a venue for art events like photo exhibits and poetry readings. They recently started a suspended coffee initiative.
Good for: lunch, dinner, coffee, drinks
Recommendations: Twice-cooked chicken adobo, chicken with basil and cheese stuffing, Vigan Longganisa pasta
Price range: P200-400 per person
Facebook: Black Soup Cafe + Artspace, Tel. No: 435.2549
ALL-DAY BREAKFAST
π BREAKFAST & PIES – #39 Malingap Street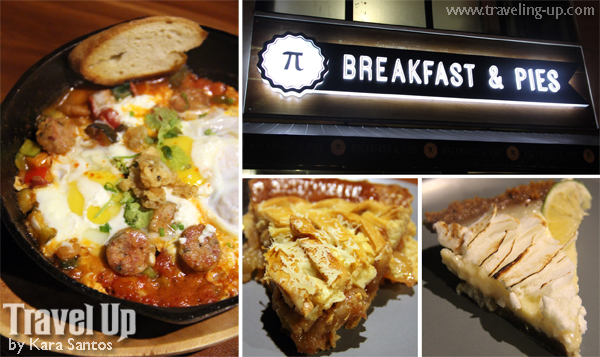 Breakfast & Pies is an All-Day breakfast joint right next to (and from the same team behind) Pino and Pipino in Malingap St. They serve unique breakfast dishes, home-made pies, gourmet waffles, and fresh bread.
Good for: Breakfast, lunch, dinner, snack, dessert, take-out (bakery)
Recommendations: Huevos Rancheros, Beef Belly Corned beef, Eggs Benny, Apple Gruyere Pie, Key Lime Pie, Cereal Milk
Price range: P200-400 per person
PIZZA PARLOR
★ FRIULI TRATTORIA - #79-A Maginhawa Street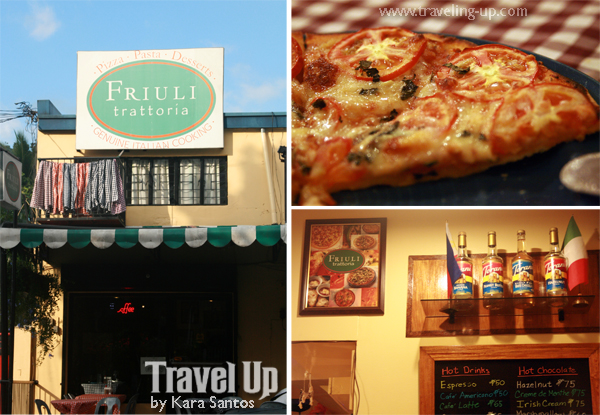 Neighborhood pizza joint that serves genuine (and affordable) Italian cuisine. Really great pizzas, pasta dishes and desserts. They deliver to our area, so this is our pizza of choice when we have friends over.
HANDURAW PIZZA – #1A Masunurin Street corner Anonas Extension, Sikatuna Village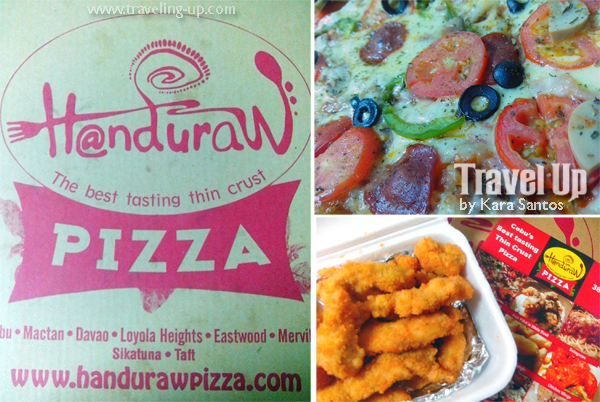 Handuraw (Cebuano term for "the power to imagine") is a pizza joint originating from the Cebu, with several branches in Cebu, Davao, and Metro Manila. They serve appetizers, soups, salads, sandwiches, complete meals and rice bowls, but are best known for their thin-crust pizzas including a few "adventurous" ones topped with sisig, tinapa, adobo and chorizo de Cebu.
Good for: lunch, snack, dinner, delivery
Recommendations: Handuraw Special (pepperoni, Italian sausage, ham, bacon, mushroom, olives, onions, green bell peppers, fresh tomatoes, and mozzarella cheese on a base of our homemade tomato sauce), Pizza Cebuana (topped with Chorizo de Cebu and kesong puti), Tinapa Delight (tinapang bangus flakes and crunchy chicharon)
Price range: P250-350 for pizzas
Facebook page: Handuraw Pizza Sikatuna, Tel. no: (02) 3813349
CASUAL DINING/CAFES
THE PORCH BY CASA VERDE – #113 Anonas Extension (near Savemore)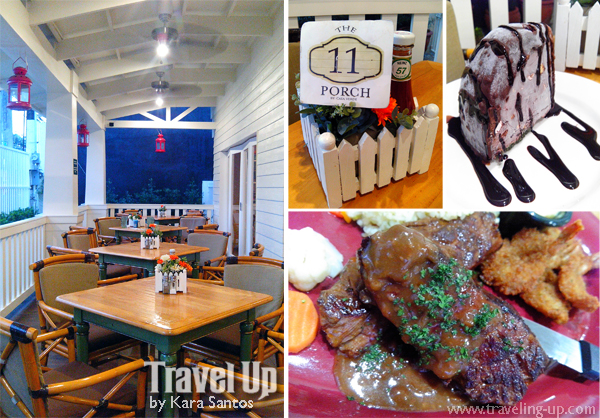 Homey resto with cheerful interiors and a cool al fresco porch area that serves home-style comfort food like ribs, steaks, pastas, burgers, sandwiches, desserts and more. The Porch by Casa Verde is the second Manila branch of the popular family-owned chain of restaurants that originated in Cebu City (the first branch is located in UP Town Center). Bonus points for their dedicated parking lot beside the resto.
Good for: lunch, dinner, desserts
Recommendations: The Dax (USDA beef tenderloin with brown sauce and onions & crunchy breaded shrimp), Death By Chocolate ice cream cake, Brian's Ribs
Price range: P250-350 for ribs & steaks (good for sharing), P180+ for desserts
Facebook Page: The Porch, Tel. no: 9527178
LEONA ART RESTAURANT - #45 Matimtiman Street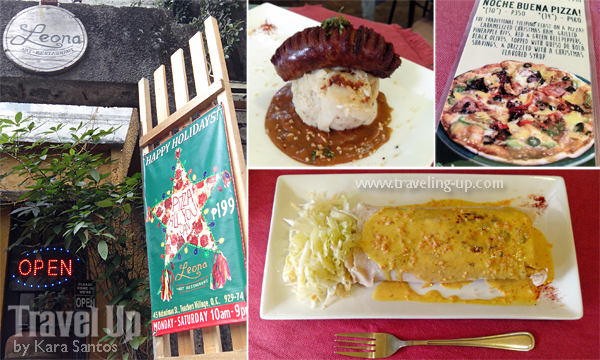 A family owned and managed restaurant with a laid-back artsy vibe. They specialize in pasta and pizza but also have some good rice meals and turkey dishes on the menu (you can order whole/half/quarter roast turkey here; order 2 days in advance). They also sell some interesting items like postcards, specialty wrapping paper and trinkets in the resto.
Good for: breakfast, lunch, snack, dinner (closed on Sundays)
Recommendations: Roast Turkey Burrito, Unli Pizza, Root Beer Float, their Holiday Menu (up to Jan 31 has interesting turkey dishes and Noche Buena Pizza)
Price range: P150+ up per person, P199/person for Unli Pizza
Facebook page: Leona Art Restaurant, Tel. no: 929-7490
BOWL & BREW – Unit1 131, V.Luna Road Ext.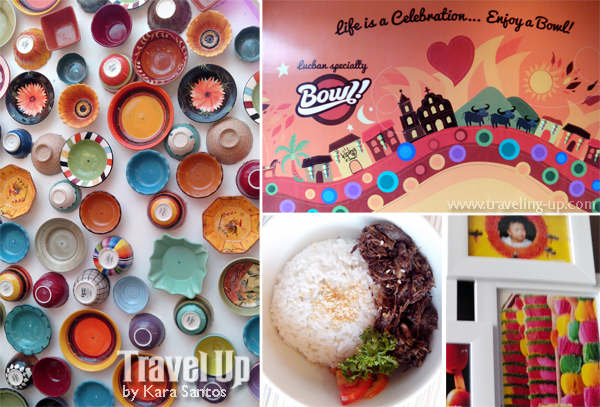 A colorful modern diner-style restaurant that serves rice bowls, pasta, sandwiches, coffee and specialties from Lucban, Quezon. I like the touch of the colorful bowls on the ceiling and the framed photos from Pahiyas festival around the resto.
Good for: lunch, snack, dinner, coffee
Recommendations: Lucban Longganisa, Kinulob Lucban Flakes, Pancit Lucban (Habhab), Sorbetes with Kiping Flakes and Suman
Price range: 145-200 per person
Facebook: Bowl & Brew, Tel. No: 799-9410
★ COOL BEANS LIBRARY CAFE - #67-A Maginhawa Street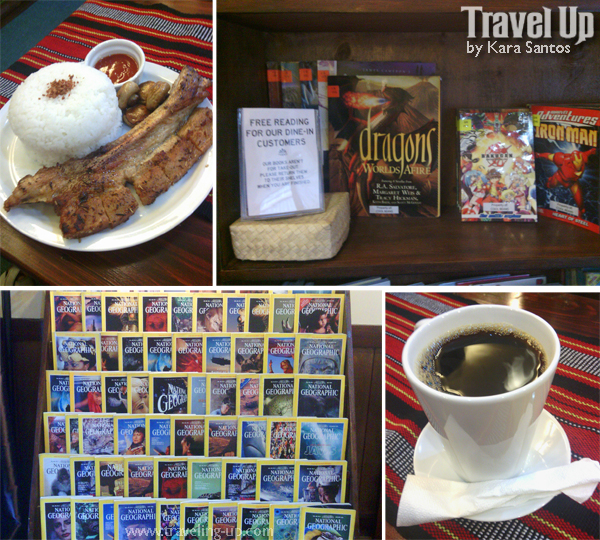 A mini-library/cafe that serves highland coffee (Sagada, Kalinga and Cordillera roasts), specialty frappes, rice meals, pasta, panini & desserts. There's a rack of National Geographic magazines and a shelf full of books, comics & graphic novels that dine-in customers are free to browse through.
Good for: coffee & dessert, snack, lunch, dinner
Recommendations: Pan-grilled Pork Belly, Sagada Coffee, Banana Cake, S'mores
Price range: P150-300 per person; coffee is P80
Facebook: Cool Beans Cafe, Tel. No: 0917.7064711